Secure Purchases
South Pacific Underwear (SPU) uses Paypal, the worlds largest payment processor of online purchases. Paypal's world famous security makes sure your purchases are safe and protected. With Paypal you can use any credit or debit card, even if you don't have a Paypal account. By using Paypal as our payment processor you can rest assured that your information is secure! Your purchases will show up as RS ENTERPRIS on your card statement. All product sizes are in INCHES. 
Use Stripe to make your purchases with a credit card. By using Stripe, you can rest assured that your information is secure! Your purchases will show up as SoPacUw or South Pacific Underwear on your card statement depending on your card company. All product sizes are in INCHES. 
Don't have Paypal?
Don't worry SPU accepts Visa and MasterCard credit or debit cards. We use Paypal as our payment processor for secure online purchases but you can use any credit or debit card with the Visa or MasterCard symbols. Click on Pay using your credit or debit card.

Free Shipping
South Pacific Underwear offers a wide selection of underwear with free drop shipping provided by vendors. Order processing may take up to 7 days (not including weekends & holidays) from your initial order in addition to shipping time. Shipping times are estimates provided by carriers. Contact us if we do not ship to your location. Free shipping may take a little longer (see estimate below), but hey, its not like you ordered a kidney. We also make every effort to offer you friendly and comprehensive customer service.
You will receive a tracking number & shipping confirmation sent to your email when your order ships. Estimated delivery can take up to 4-6 weeks. The estimated delivery is an average not a guarantee. Orders may be tracked once in your Country through your local postal service. Delays maybe caused by customs check points & holidays. Once an order has been picked it cannot be recalled from the carrier. 15% Restocking Fee Special Request.
Current Estimated Delivery: 36-48 Days
Schedule. In the force-majeure circumstances, deliveries may be delayed. These circumstances include: flood, fire, earthquake and other natural phenomena, strike, national holidays, acts or actions of governmental bodies. South Pacific Underwear has no control over shipping operations, tracking information or schedules. Any tracking information is provided by the Carriers. We are not responsible for any accidents, delays or other issues that are the responsibility of the shipping service. February orders will not processed for shipping until after February 28, please take that in consideration when placing your order.
Why have I received multiple tracking numbers? When you made your purchase, you chose items from multiple vendors. Each vendor handles their own shipping to fulfil your order.
BUY 2 GET A 3RD FREE
Buy two of the same kind and get a 3rd free. All purchases must not be on sale or discounted.
Mystery Box
You agree to accept whichever garment in your size is chosen randomly, there is no exchange or return.
Promo Codes
South Pacific Underwear promo codes may expire without notice, so use them as soon as they are available. Website promotions can end at any time without notice. All promo codes must be used at time of check out. Promo codes are not valid on items in a bundle, on sale items, select premium items. Under $12 or any already discounted item.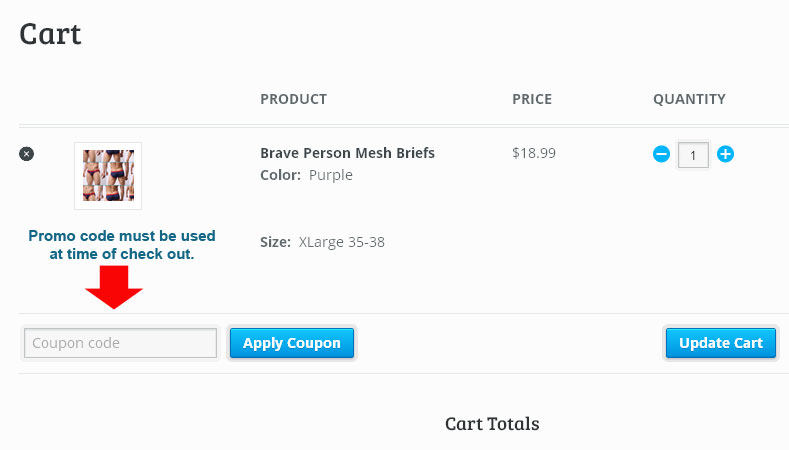 IMPORTANT
South Pacific Underwear does not a manufacturer any apparel. SPU dropships products direct from manufacturers. No products are made in the USA.
Return Policy
Choose your size carefully. For sanitary & health reasons —all sales are final. No Returns accepted.